Reiki training in Liverpool is offered by Amanda Norman of Gemstone, Tarot and Healing. There are three stages of Usui Reiki training depending on what you plan on using your Reiki knowledge for. In addition, Amanda also offers hypnotherapy services and a full list of her services can be found by clicking the button below.
Get to know Amanda and if you have any further questions about training, Reiki or hypnotherapy, please get in touch 07916 543 785.
Allow me to take you on a spiritual journey of learning Reiki here in Liverpool.
Different Levels of Reiki Training
Reiki Level 1 – Shoden
Level 1 Reiki training will show you how to perform self-healing and provide treatments to your friends and family. Click below for future dates and further information.
Reiki Level 2 – Okuden
Level 2 Reiki training is for providing professional treatments to the public. This can take place three months after your Reiki 1 training. Click below for future dates and further information.
Reiki Level 3 – Shinpinden
Mastering and teaching Reiki to others. This can take place a minimum of 7 months following your Reiki 2. Click below for future dates and further information.
Reiki Workshops – Add on Training
The Reiki workshops below are lovingly crafted by Amanda for you to grow your skills with using Reiki. They make a great addition to your standard Reiki training.
Manifesting with Reiki
Join Amanda in this workshop and allow her to inspire you to manifest your goals using Reiki.
Using Crystals with Reiki
Learn how Amanda uses crystals with her Reiki treatments and feel confident doing it yourself.
---
I train a maximum of three people at a time thus providing an excellent experience for all attendees. I can also provide one-to-one training if you do not wish to train in a group.
No matter what your knowledge or experience of Reiki is, I will help you to embark on a wonderful journey of healing yourself and others. Furthermore, don't be surprised should it lead you onto a spiritual journey.
My name's Amanda and I welcome you to come and learn Reiki with me.
During my Reiki classes, I often hear students say that Reiki finds you when you most need it. Hand on heart and in my personal experience, I find this statement to be true.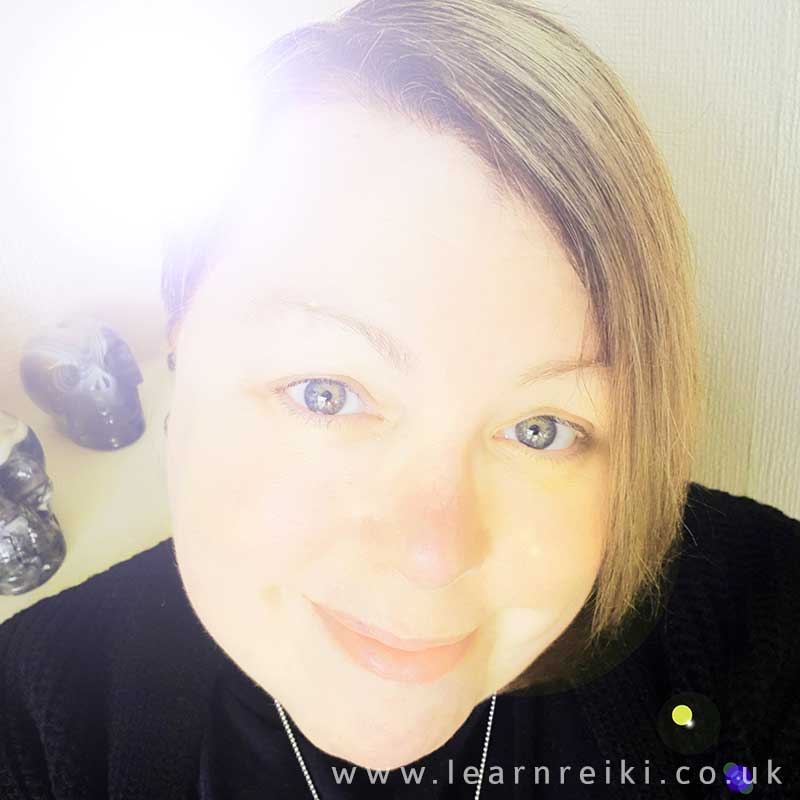 "When your soul stirs, YOU awake to the magic of life. When awake and present, YOU become peace, love, and light. It is who YOU are, it is your spiritual journey to begin, and Reiki certainly helps"

— Amanda Norman, Usui Reiki Master
---
---
My healing journey with Reiki
My troubles with General Anxiety Disorder forced me to examine my job, lifestyle, and my well-being.
I started with practicing mindfulness and meditation, which yielded some results. However, I was not confident with meditating. Therefore, I decided to return to two of my first loves to assist me with my self-therapy. Reading the Tarot and crystal healing.
At that time, I could not find a crystal course to attend however, my partner, Mark, suggested a Reiki course as it would complement my other practices. Although I had vaguely heard of it I had zero experience but I pushed myself to find out more.
I must say that completing my journey of Reiki training, is to date one of the best decisions I have ever made!
Since I found Reiki, I've manifested lots of change.
Originally, I was not feeling fulfilled in my previous position as a Compliance Manager. To make matters worse, I did not have the courage or confidence to apply for a position elsewhere. I was allowing fear to hold me back as ten years is a long time with the same company. Eventually, I applied for a more senior role in a new company, which I obtained.
It wasn't long before I also left that position to follow my heart's calling to become a self-employed, full-time holistic therapist. I strongly feel that my journey of Reiki together with practice and continued learning has helped me to achieve my goals.
What is a Reiki attunement?
Some people refer to a Reiki attunement as an initiation into Reiki.
It is a sacred ritual whereby you undergo a process of becoming attuned to the vibration of Reiki. This process has an advantage of clearing out stagnant energy to allow you to channel Reiki. Only a Reiki Master can perform one.
Today, we see many styles of Reiki being taught across the world. It is important that you choose a style of Reiki to suit you. Equally important is your investment in your Reiki Master.
Absolutely amazing! We can't wait to do Reiki 2! Amanda is an incredible teacher and we hope to go through full Reiki attunement with her. Amanda really knows her stuff and I would highly recommend her to anyone for Reiki treatment and training.

Alec and Ely, 30/10/2022
What is Usui Reiki Training?
Mikao Usui is the founder of Reiki and sometimes referred to as the father of Reiki.
All Usui Reiki Masters can show you their Reiki lineage that will show Mikao Usui at the top.
Just like me, you too will learn Usui Reiki and therefore be keeping the traditional roots of Reiki alive.
There are many Reiki organisations that are created to ensure his original teachings are not lost. I am a member of the UK Reiki Federation and I agree to upholding the UK Reiki Council's code of practice. This ensures that you will also receive a high standard of Usui training.
There are certain schools of Reiki that have moved significantly away from the way that Reiki's founder, Mikao Usui, practised and taught Reiki. These changes are not recognised by the Reiki Council which is dedicated to the Usui System of Reiki. This is the form of Reiki that is recognised for professional practise in the UK.
Reiki Council member organisations adhere to in-person training and attunements using the traditional Usui Reiki system and symbols.

Reiki Council
Reiki Training in Liverpool
A non-refundable booking fee of 50% is required to secure your Reiki training. Further information can be found on my Terms and Conditions. Reiki attunements will take place in the Bowring Park (L16) area of Liverpool.
Some people are happy remaining at Level 1 (referred to as Shoden in Japanese). Level 1 is more than enough if you are wanting to learn self-healing. In addition, you receive training to offer Reiki to any living thing.
If you would like a career in Reiki, you will need to complete Reiki degree level 2. As a current professional Reiki practitioner, I have the knowledge and experience to teach you everything you need to know.
Finally, should you wish to advance in your Reiki training, and one day teach Reiki, level 3 is necessary.